SFP TECH HOLDINGS BERHAD SUCCESFULLY DEBUTS ON THE ACE MARKET OF BURSA MALAYSIA SECURITIES BERHAD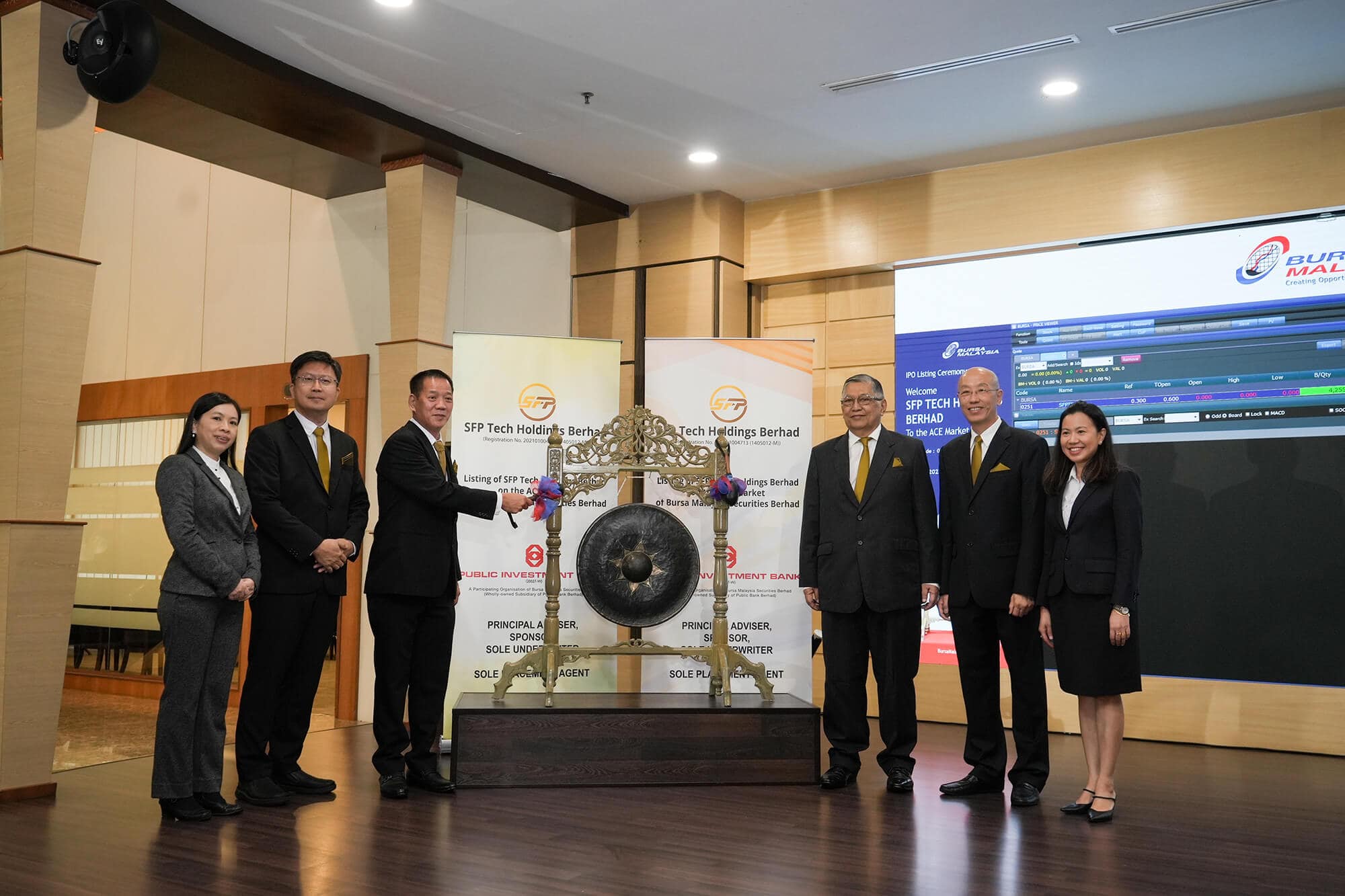 KUALA LUMPUR, 20 June 2022 – SFP Tech Holdings Berhad ("SFP Tech" or the "Group") (SFP 科技控股集团)
, a one-stop integrated engineering and automation solutions provider was listed on the ACE Market of Bursa Malaysia Securities Berhad
("Bursa Malaysia")
and officially commenced trading under the stock short name of SFPTECH and stock code of 0251 at the opening of trading at 9.00 a.m. this morning.
Speaking after the listing ceremony, the Managing Director of SFP Tech, Keoh Beng Huat (姜抿伐) said, "As demonstrated from the public portion of our shares which was oversubscribed by 41.61 times, this is a strong testament from the public of our abilities and potential which we are greatly thankful for and we will continue to strive for better achievements and higher shareholders' value in the coming years"
Public Investment Bank Berhad is the Principal Adviser, Sponsor, Sole Underwriter and Sole Placement Agent for SFP Tech's IPO exercise.
Keoh further added, "SFP Tech's listing today marks the beginning of a new chapter that awaits us as we bring SFP Tech to greater heights. We have developed a clear roadmap and hope to grow from strength to strength and create value for all our shareholders as we now embark on a more challenging growth trajectory aiming for better and higher returns to all our shareholders."
The IPO exercise entails a public issue of 207.44 million new ordinary shares at an issue price of RM0.30 per share. Based on the issue price and the enlarged issued share capital of 800.00 million, SFP Tech has market capitalisation of RM240.00 million.
The IPO proceeds of approximately RM62.23 million will be predominantly utilised for its capital expenditure which includes the construction of Manufacturing Plant 3 in Penang Science Park and purchase of machineries. It will also be utilised for the setup of a design and development ("D&D") centre.
Moving forward, SFP Tech plans to further expand both their engineering supporting services and automated equipment solutions into other industries such as the automotive and healthcare industry. The Group also intends to move into the semiconductor back-end inspection industry through the manufacturing of vision inspection equipment platforms embedded with camera imaging and electronics system.